In August 1975, where the film adaptation of
Story of O
by Just Jaeckin was released in Paris, l'
Express
, a French serious weekly magazine, featured greatly the work of Pauline Rége in its four consecutive issues with pictures from the film, excerpts from the novel, interviews of the author, etc. This exceptional coverage gave fuel to the scandal provoked by the film and on the same time made the novel known to a broader public.
We revisited this much talked-about l'
Express
coverage, which offers still valuable information on the novel itself and the history of its public reception.
Click and go to the further story (sorry, in preparation).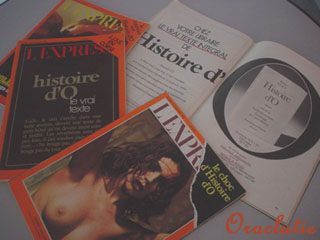 © Autel & R***
oraclutie@free.fr